The Palm Springs Pool Table Movers takes pride in providing a premium service and an exclusive 1-Year service guarantee that backs our workmanship for a whole year after the service is complete. We are the only company in the area that offers 7-day per week support for our customers. Your satisfaction is what has made us the largest and most reliable professional company in the industry.
support@abiapool.freshdesk.com
Why use experienced pool table movers?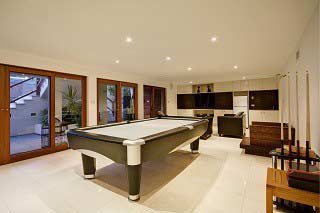 Our trained pool table movers use only the appropriate tools when servicing your table to ensure the highest level of quality.
A machinist level is used to achieve exact leveling on all pool table installations, a beeswax mixed with resin compound for filling in holes and seams and composite wood shims that are moisture resistant and don't compress as easily as traditional cedar shims.
We can recover with new or existing material if in good condition and you're happy with it, other services include moving to storage, an installation only if the pool table has already been moved.
We handle everything from start to finish. Guaranteed satisfaction and leveling on applicable pool tables. Looking for a pool table? Check our classifieds for local pool tables for sale.
We also service Cathedral City, Desert Hot Springs, Rancho Mirage, Palm Desert, La Quinta, Banning, Indio, Yucca Valley, East Hemet, Coachella, San Jacinto, Hemet, Beaumont, Yucaipa, Big Bear Lake, Salvia, Desert Hills Trailer Park, Garnet, Royal Palms, Caliente Sands, Suntown, Cathedral City, Rimlon, Desert View, North Palm Springs, Carefree Mobile Village, Dos Palmas Corners, Saddle Junction, White Water, Thousand Palms and more.
Professional pool table installers backed by an exclusive guarantee
We provide a premium service and are the only company in the Palm Springs in the area that backs up our work with a written guarantee for an entire year. This guarantee is issued by the only National Organization that regulates service standards in our industry.
As Members of the American Billiard Installers Association, all of our pool table installers are well trained in our area of expertise.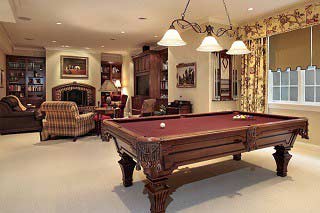 We have installed thousands of pool tables in the past 8 years and have over 20 years of experience doing it. We take pride in every pool table that we setup, install and recover.
We offer additional services such as moving a pool table when you get your room re-carpeted, we will disassemble the pool table and move it in another room to come back another day and install it.
Perhaps you are moving to a different city, we can disassemble the table only. We can also disassemble and move your pool table into storage and in case you need a pool table repair taken care of, our team of expert pool table movers can definitely help!
Price deciding factors our pool table installers need to know
In order for us to take care of a complete pool table move or any pool table service, we need to know particulars about the pool table and move situation. Such as, size of the playfield area, number of slates, pocket build, whether it is an antique or modern style and if there are any stairs to go up or down. There may be other details we need to know depending on the type of pool table you have.
Please call in at your earliest convenience if you're working with a deadline or need the service done ASAP. Since our our schedule fills up very quickly we need to iron out the details and have all the necessary materials to complete the job.
For instance if you want new cloth put on your table at the time of installation, we need to know the size of the table, type of material and color to make sure we can accomplish the service.
Professional Pool Table Services

We move pool tables in homes, businesses and even garages!  We handle every aspect of your pool table move. We can disassemble your pool table, load it up, move it in pieces to a new house, and properly set it up with assembly techniques that ensure perfect leveling.
Be careful of people who are cheap and claim a lot of experience, this in itself is a red flag and if you are a conscious consumer you should consider using a company backed by the only organization representing the billiard installation and service industry.
Pool Table Repair
Is your pool table in need of any repairs? Perhaps the pockets need replacement or the rail cushions are dead. Let us know the specifics and we can definitely take care of your pool table repair. We may request a picture to better assess the situation.
New Cloth / Pool Table Refelting
Ask us about pool table recovering at the time of installation. This is the best time to have this service done on your table since the pool table will be in pieces. We can also replace the felt on a pool table that is already set up and playable. For both scenarios we have to know a few days in advance to be prepared with all the materials and equipment needed for the task.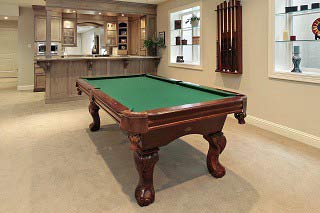 We offer two options of pool table felt in several colors to match your decorative needs. Standard felt and tournament worsted material for the more serious player, if you want your billiard investment to play to it's maximum potential, go with the pro tournament felt!
Our customers can choose from over 30 different colors of pool table felt. We use the highest quality pool table cloth the industry has to offer at this time.
We will come into your house and remove the existing felt from your table, replacing it with new material. We will also verify if your pool table is level or not, if it isn't we will correct it. Our professional pool table installers work with standard woolen pool table cloth and tournament grade worsted materials as well.
Moves to Storage
We will break down your table or move it from storage facilities, your garage or just another room in the house.  If you need carpet laid do not take the risk of damaging or hurting yourself! Let us handle that 800 pound monster for you. Taking the table out of storage?  We can professionally install the pool table for you.
If this is your first pool table, make sure you check out our pool table room sizes to determine which size fits best in your room.
Additional Services That We Offer…
Disassemble a 3 piece slate pool table and move it to storage
Disassemble a 3 piece slate pool table, take out side to storage or moving truck
Pick up pool table from storage, deliver and install
Move a pool table for re flooring. 3 piece slate. Requires two appointments
Move a pool table to storage then into a house. 3 piece slate. Two appointments
Disassemble a pool table that is 3 piece slate and reassemble it in a different room.
Give us a call or send us a message below. We'll answer as soon as possible.